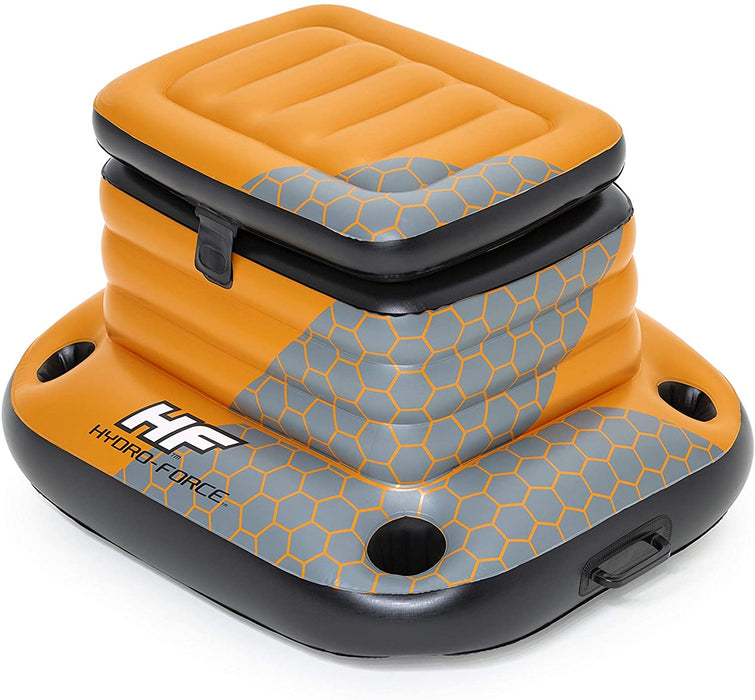 Bestway H2OGO! Glacial Sport Inflatable Floating Cooler w/ Attached Lid | 4 Built-in Cup Holders | Great Outdoor Pool Accessory or River Cooler
The Glacial Sport Cooler is a fantastic addition to your party bar for the beach or pool. The 49 L (12. 9 gal. ) of insulated cooler space will keep your drinks cold throughout the day. And 4 built-in cup holders keep open drinks within reach. In addition to the inner insulation, this floating cooler is crafted with thick 0. 27 mm (10. 8 ga. ) vinyl to protect your beverages from the elements. The grab handles makes it portable and approved for any situation. This inflatable cooler features safety valves so you count on all-day buoyancy and easy inflation/deflation.
PERFECT FOR POOL PARTIES: The H2OGO! Glacial Sport Inflatable Cooler is the ultimate accessory for any pool, beach or lake! It brings the fun, as you can enjoy an ice cold refreshing drink while soaking up the sun on a pool float.
KEEP YOUR DRINK ICE COLD: Not only does the insulated floating cooler store drinks and ice, there are 4 cupholders surrounding the cooler bag to keep your drink close and prevent accidental spills in the pool. This inflatable cooler includes an attached lid, so that the contents of the cooler stay cold. The dimensions of the inflatable cooler are 35" x 27" while having a capacity of 49 liters.
STAY IN THE POOL: With a floating cooler, the drinks come to you! No more having to get in and out of the water to grab your favorite beverage. Two built-in handles provide an easy way to transport the cooler in the water or carrying it around on land without the hassle of deflating it.
PORTABLE POOL COOLER: Deflates and folds up compactly! Take it wherever you go whether it's a neighborhood pool party, the lake, or the beach! It's composition is sturdy pre-tested vinyl meaning it can withstand the elements.
INFLATES & DEFLATES QUICKLY: Fast and easy setup leads to family fun in just minutes! Easily bring it along to your next pool party, summer get-together, or tailgate.