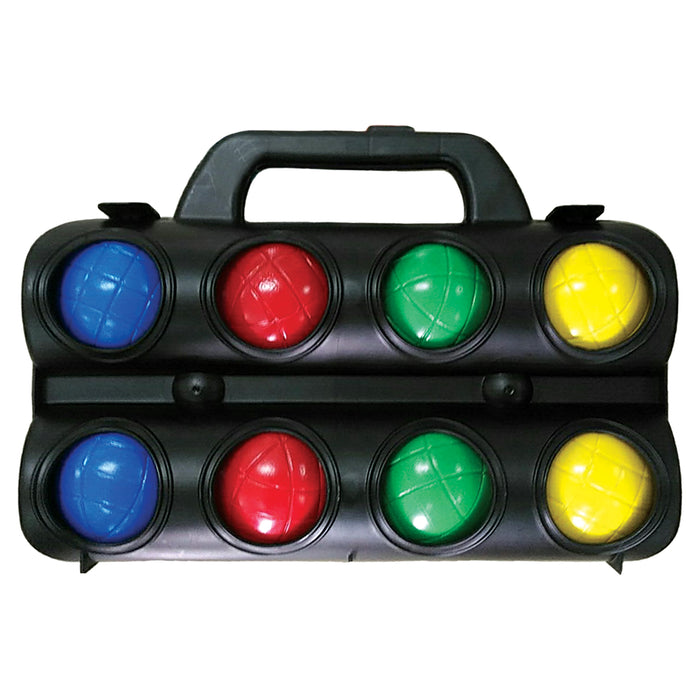 Bluewater Beach Sports Equipment Bocce Ball Set Multicolor Beach Games (8 Pack & 2 ) | Yard Games and Beach Games|
Bluewater Beach is taking summertime games outdoors with everyone's favorite beach game the Bluewater Beach Bocce Ball Set, Regulation bocce ball set. This play equipment kit features regulation size heavy duty bocce balls and a carrier. This classic summer sport can be enjoyed by kids, teens, and adults. Bocce Ball is best played on outdoor surfaces such as grass, sand, or dirt. This Bluewater Beach Sports Equipment Bocce Ball Set is easy to play on your own lawn or take to the beach, backyard family party. Bocce Balls are made with high-quality compound material that is crack and damage resistant for long-lasting fun, year after year! Our set includes 2 green, 2 red, 2 yellow, 2 blue balls, 2 pallino ball of 1.5" diameter, and a durable carrying case for your favorite outdoor backyard games.
EASY & FUN FOR ALL AGES - Bluewater Beach bocce balls set is easy to learn and can be enjoyed by kids, adults and family. It can be played with 2 to 8 players and provide hours of funny entertainment!
COMPLETE BOCCE BALLS SET - Bluewater Beach Bocce ball sets regulation size includes 8 bocce balls (2 red, 2 blue, 2 green, 2 yellow), 2 white pallino balls, and a carrying case. Here are all items you need to play the bocce balls set.
TAKE IT ANYWHERE - Bluewater Beach bocce ball set includes a durable carrying case. It is an ideal beach/backyard/outdoor game for adults and families.