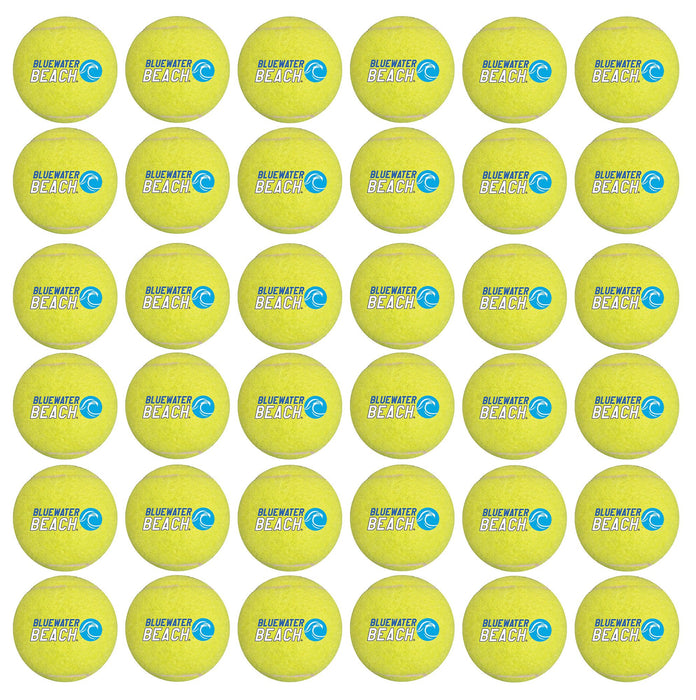 Bluewater Beach Tennis Balls Bulk (36 Pack)
Bluewater Beach Tennis Ball Set - Unlike Regular tennis balls that will go flat over time, even if you don't use them. These balls will have the same consistent bounce for the life of the ball. 
Not all tennis balls are created equal. The extra durable felt on the BwB Pressure less tennis balls lasts a long time. Ideal for tennis ball machines, tennis practice, or even playing with your pets. Bluewater Beach 
tennis balls are regulation size and bounce to regulation height. Many pressure less balls are smaller than a regular ball or dog balls. Made for play and practice with confidence on all surfaces. Does not come with a tennis bag. 
Perfect for beach paddle tennis and POP paddle tennis, durable high density natural rubber for great feel and perfect control
Modified speed and bounce for great control response

A high quality and consistent ball for longtime play at beach or courts, the ball is fuzzy, motion slow and shock reduce, especially great choice for the beginner or training, or playing in a harsh environment

Improved bright green color for a better tone contrast that allows players to track spin easier

Can be used as 

tennis balls for dogs or perfect for the game of paddle tennis with friends

Also easy to find when it falls into the sand or fly out of the playing area